Being among the first geo-information companies ever, GAF headquarters has introduced a quality management system at a very early stage in its development and achieved full ISO 9001:1994 certification in September 1995. In July 2005, GAF headquarters was certified according to more process oriented standard ISO 9001:2000. Between July 2009 to July 2018 GAF headquarters was certified according to the ISO standard 9001:2008. In July 2018 GAF headquarters achieved the certification according to the latest ISO standard 9001:2015. In July 2023, the certification was extended to include the Neustrelitz branch. In addition, the certification company changed to TÜV Süd.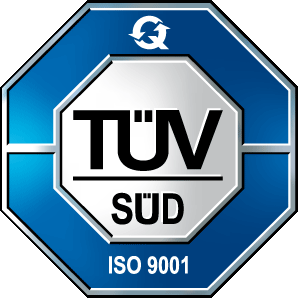 Adaptive process management
At GAF each process that directly or indirectly influences the creation and provision of products or services is designed so that customer requirements are met right from the start of every project. This satisfies constantly changing project focal points and requirements in the professionally and technically heterogeneous GAF business areas and allows extension and adjustment at any time. Preservation of flexibility, one of the key strengths of GAF, thus always has a special importance within the QM system.
In our point of view long term quality can only be assured by continuous performance enhancement as well as the presence of competent and motivated staff, within the bounds of existing commercial considerations. GAF has therefore determined the following quality goals which serve as guidelines for all staff members.
GAF quality goals
Identification with customers' problems
Close and constructive co-operation with customers
Build-up of long-term customer relationships
Continuous optimization of processes
Continuous improvement of control mechanisms for entire project management
Achieving and surpassing of formerly established quality standards
Development and establishment of new quality standards
Enhancement of internal company know-how through innovative new developments such ascollaboration in research projects
Preservation and enhancement of staff motivation, e. g. by ensuring individual windows of opportunity
Preservation and enhancement of staff's high professional competence
Encouragement of staff´s personal responsibility
The entire QM-documentation is specifically tailored to meet the demands of a company which is nationally and internationally active in the fields of geo-information systems and geo-consulting, taking into account commonly approved professional methods and techniques as well as national and international sector specific standards.
The IT backbone of the Quality Management System is an interactive Wiki within GAF´s intranet, supplemented by numerous QM-documents in digital formats.
Customer`s Satisfaction
GAF headquarters performs since more than 10 years yearly customer satisfaction surveys.
The feedback shows that more than 97% of our customers are very satisfied or fully satisfied with the GAF headquarters performance.