GAF AG, who leads the European Space Agency's (ESA) Earth Observation for Sustainable Development – Forest Monitoring (EO4SD FM), was present at the United Nations Framework Convention on Climate Change (UNFCCC), Conference of Parties COP 27 held at Sharm el Sheikh in November 2022.
The two GAF representatives, Dr. Sharon Gomez, Unit Head for Sustainable Development & Climate Hub and her colleague Fabian Enßle give a brief overview.
Reconnecting with Commission des Forêts d'Afrique Centrale-COMIFAC (Congo Basin)
The Congo Basin region has the second largest area of rainforest in the world after the Amazon. In 1999 the Heads of State of several Congo Basin countries committed themselves to co-ordinate their efforts for the conservation and sustainable management of forest ecosystems in the region. The Commission des Forêts d'Afrique Centrale-COMIFAC, is the overarching body for the regional activities related to conservation and sustainable forest management in the region. GAF AG has been actively supporting COMIFAC and countries in the region with the REDD+ process since 2006, and at COP27 re-connected with those colleagues.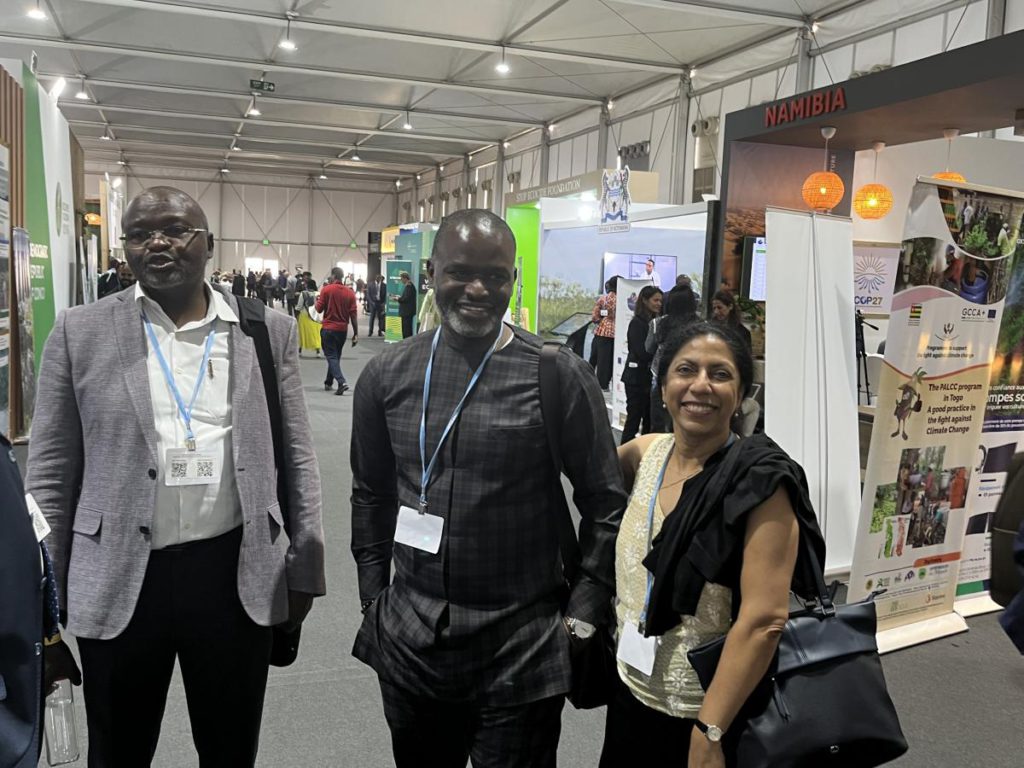 Promoting the Planned EO4SD-FM Webinars
Dr. Rene Siwe (a former GAF colleague) has launched Central Africa Women's Initiative for Climate Action (WICA) with support from the US Forest Service. This programme was set up to provide an opportunity to early career women to obtain specific training in mitigation, adaptation, responses to climate change, greenhouse gas accounting, and climate negotiation. Discussions were held with Dr. Siwe and Tatiana Nana from the Silva Carbon programme in the Republic of Congo, which focused on how the WICA participants can benefit from the EO4SD-FM planned webinars for forest monitoring for GHG emission reporting.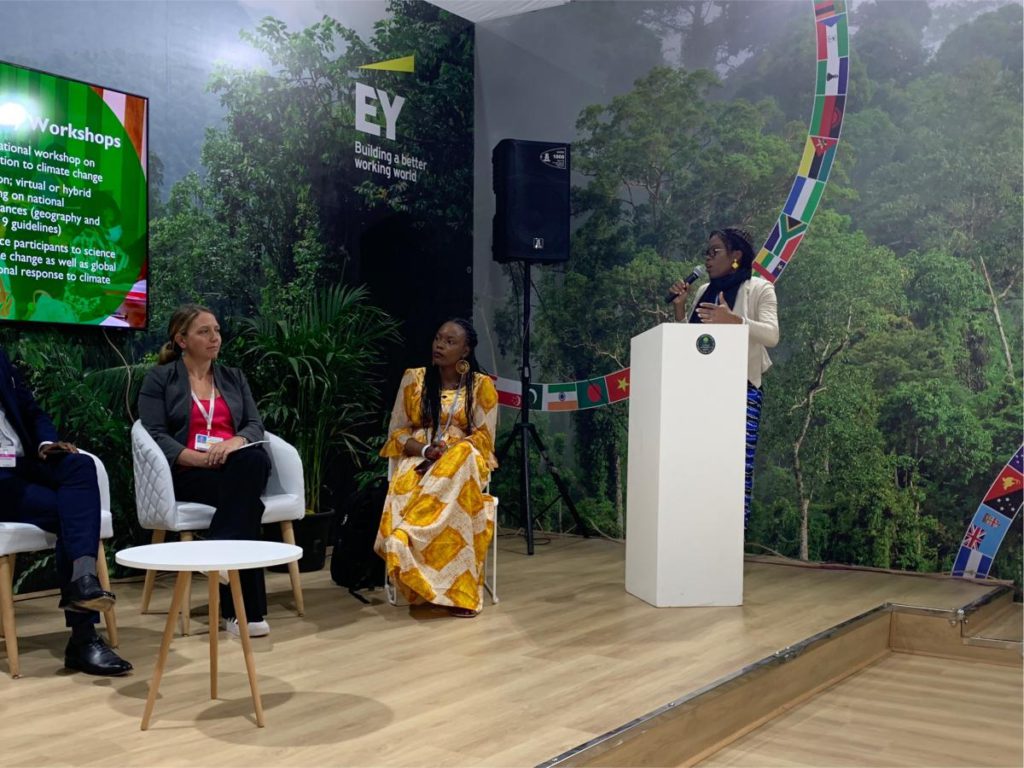 Use of EO-based forest data for dry forests: Kenya and Mozambique
GAF also supported the side event organised by the Global Forest Observations Initiative (GFOI), ESA and the Japanese Space Agency (JAXA). The event focused on the sharing experiences from Kenya and Mozambique who are using Earth Observation (EO) for their national forest monitoring; both countries have dry forests which pose challenges for mapping. The Mozambique delegate Mr. J. Macuacua from the National Directorate of Forestry in Mozambique presented their approach to using EO data for deforestation assessments for their Forest Reference Emission Level calculations; in this context he also referred to the work done by EO4SD FM using the Tree Cover Density (TCD) product for improving the accuracy of forest area assessments in the Miombo ecosystems.
The MapBiomas Side Event showcased the use of the regional forest and land use mapping database MapBiomas to address the need for monitoring deforestation and land use changes in S. America and Indonesia.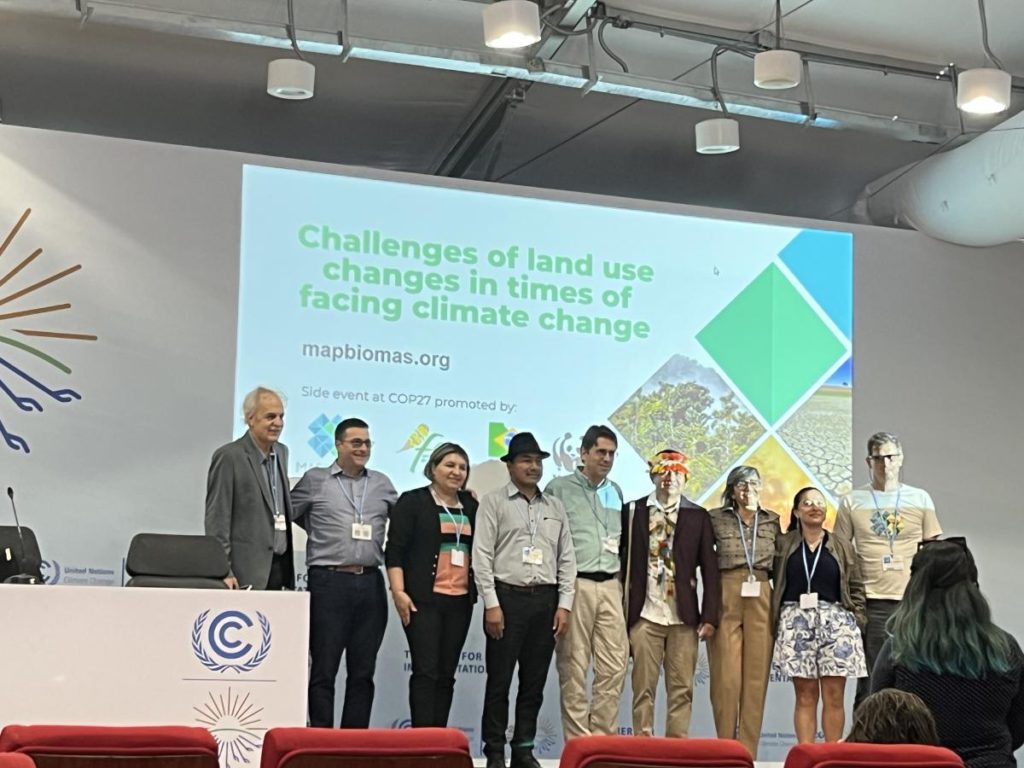 After the Event, GAF took the opportunity to meet with the Natalia Calderon-Executive Director of Fundación Amigos de la Naturaleza (FAN), based in Bolivia on potential collaboration with the REDD+ initiative in that country.